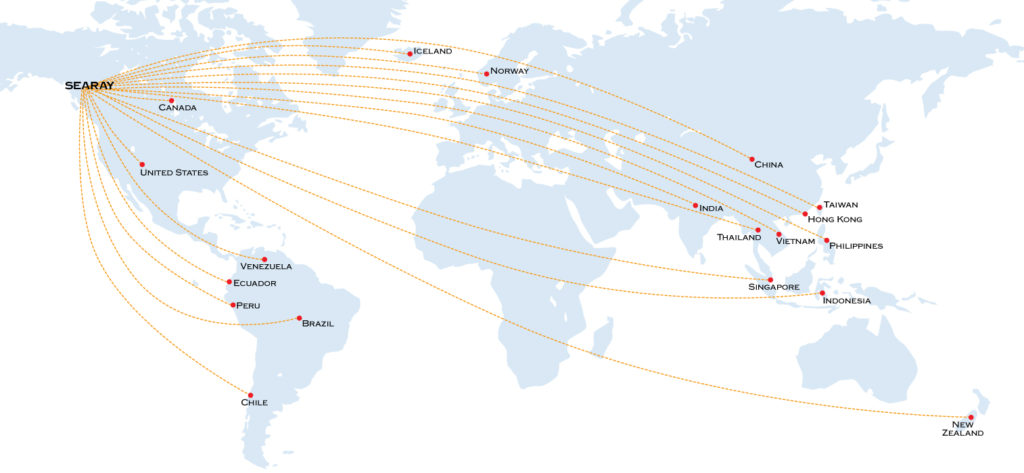 We Are Dedicated To Our Clients & Products
We believe it is our responsibility to ensure our oceans are healthy now and in the future.
We accentuate on the quality of our products to deliver the best to our customers. As well, many of our imports are new to Canada, which allows our consumers to be able to savor different species from other counties. Because we realize the continual demand for new products to stimulate the market, we assertively take the initiative to make it happen. Our specialized products of Frozen Fish, Fish Steaks, Fish Fillets, Shrimps, Squids, Cuttlefish, Fish Balls, Fish Tofu products and other seafood products are packed in enhanced vacuum packaging. Not only so, Searay is the Canada Sole Agents of "New Chong Kee Fishball", "Thailand PFP Products" and "Searay" brands are currently advertised on Fairchild TV Channels to promote our items nationally.
From past family generation of catching on our own fishing vessels to processing in our company-owned seafood processing plant, we are now positioning ourselves in the business of importing and exporting seafood. With many years of experience in the fish industry, we import and distribute high quality seafood products to Asian and Western markets in Canada. Searay Foods Inc. only collects HACCP-Standard seafood products from worldwide countries such as Taiwan, China, Hong Kong, Philippines, Malaysia, Vietnam, Thailand, India, Australia, Chile, Peru, Ecuador, Panama, Suriname, Uruguay, Argentina, USA and Canada.
Searay Foods Inc. is federally registered with the Canada Food Inspection Agency (CFIA) under the Quality Management Program (QMP). The QMP is based on the principles of the Hazard Analysis Critical Control Point (HACCP), an internationally recognized system which ensures the control of hazards significant to food safety. We implement our own in-plant quality control program under supervision of CFIA, to provide you with a high level of quality and safety to the products we sell.